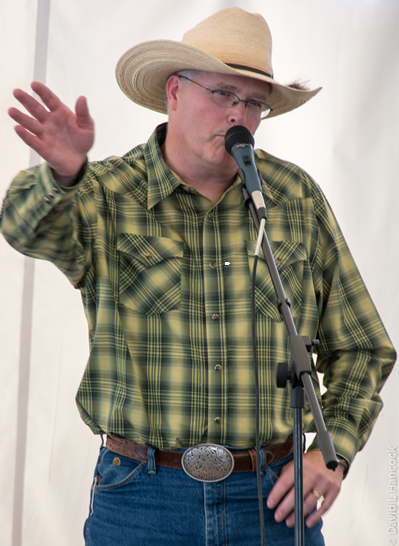 Give me a holler at 503.936.1621 or send an email if you'd like to talk about including cowboy poetry at your next event.
March 10, 2017
Willamette Valley Country Club
Member/Guest Dinner Concert 7PM, Canby, OR

March 31, 2017
Canby Rotary Club 11:45AM
Guests welcome. Lunch available.
Cutsforth's Town Hall Meeting Room
Canby, OR
www.canbyrotary.com

April 15, 2017
Wilsonville, OR Public Library 1PM
Cowboy Poetry Week Program
8200 SW Wilsonville Rd., Wilsonville, OR

April 18, 2017
Tigard, OR Public Library 7PM
Cowboy Poetry Week Program
13500 SW Hall Blvd., Tigard, OR

June 9, 2017
Royal Rosarian Rose Festival Private Party
Double Tree Hotel
Portland, OR

June 19-24, 2017
Pendleton Round-Up Wagon Train Ride
Around the campfire
In the Blue Mountains, OR

June 27, 2017
Oregon City, OR 7PM
With Juni Fisher
A benefit for Territorial Riders BCHO
For tickets and info click here .

July 2 & 3, 2017
St. Paul Rodeo Wild West Art Show Stage 4-7PM
With Andy Bales. FREE
St. Paul, OR

August 21, 2017
Redmond Backyard House party at 6:30
With performance by Miss Devon & the Outlaw
Limited seating. Click here for more info.
Redmond, OR
October 5-8, 2017
Durango Cowboy Poetry Gathering
Durango, CO
durangocowboypoetrygathering.org
Past appearances:
February 17-19, Spirit of the West Cowboy Gathering, Ellensburg, WA
February 2-4, 2017, National Cowboy Poetry Gathering, Elko, NV
January 6, 2017, High Desert Museum, Bend, OR
November 15, 2016, Marion County Farm Bureau Annual Dinner, Silverton, OR
November 9-13, 2016, Western Music Association Convention, Albuquerque, NM
November 2, 2016, The Springs at Carman Oaks, Lake Oswego, OR
October 23, 2016, WMA Columbia Chapter Showcase Concert, with Bingen, WA
September 24, 2016, Art & Science Gala Benefiting PLAYA, Portand, OR
September 1-5, Professional Horsemen's Rendezvous, Pitchfork Ranch, WY
August, PLAYA Residency, Summer Lake, OR
July 23, National Day of the Cowboy concert with Notable Exceptions, Portland, OR
July 2-3, St. Paul Rodeo with Andy Bales
June 20-25, Pendleton Round-Up Wagon Train Ride June 12, Concert with Juni Fisher, Portland, OR
May 29, Private Event, Crescent, OR
May 10, Beavercreek Grange Hall with Mike Beck, Oregon City, OR
April 19, Cowboy Poetry Week Performance, Lake Oswego, OR
April 18, Cowboy Poetry Week, Tigard, OR
April 9, Garden Home Library, Portland, OR
April 5, Walters Cultural Arts Center, Hillsboro, OR
April 4, West Slope Elementary, Portland, OR
March 3, House concert with Notable Exceptions, Tualatin, OR
February 20, 2016, House Concert, Portland, OR
Feb 12-13, 2016, Spirit of the West Cowboy Gathering, Ellensburg, WA
Jan. 25-30, 2016, National Cowboy Poetry Gathering - Open Mic, Elko NV
Nov. 13-14, 2015, Western Music Association Convention and Awards, Albuquerque, NM
October 18, 2015, Western Music Assoc. Columbia Gorge Showcase, Bingen, WA
October 1-4, 2015, Durango Cowboy Poetry Gathering, Durango, CO
August 24, 2015, House concert with Almeda Bradshaw, Portland, Oregon area
August 21-22, 2015, Cimarron Cowboy Music & Poetry Gathering, Cimarron, NM
August 10, 2015, Ranch BBQ Concert, Sprague River, OR
August 8, 2015, Leon Flick/Sunny Hancock Memorial Cowboy Poetry Show, Paisley, OR
August 7, 2015, Private House Party, Redmond, OR
July 2-3, 2015, St. Paul Rodeo, St. Paul, OR
June 22-27, 2015, Pendleton Round-Up Wagon Train Ride, Blue Mountains, OR
June 14, 2015, Portland, OR area concert, Performing with Horse Crazy Cowgirl Band
May 23, 2015, Mayor of Schoonover Memorial Day Campfire, Crescent, OR
May 9, 2015, Washington Outfitters & Guides Association Packers Rendezvous, Winthrop, WA
May 9, 2015, '49ers Days Celebration, Winthrop, WA 12PM
May 1, 2015, Opening for Dave Stamey, Klamath County Fairgrounds, Klamath Falls, OR
April 25, 2015, Sherwood Public Library, Special "National Cowboy Poetry Week" Program, Sherwood, OR
April 24, 2015, Cornelius Public Library, Special "National Cowboy Poetry Week" Program, Cornelius, OR
April 23, 2015, "Shakespeare's Birthday", St. Paul, OR
April 22, 2015, Tigard Public Library, Special "National Cowboy Poetry Week" Program, Tigard, OR
April 19, 2015, Tualatin Public Library, Special "National Cowboy Poetry Week" Program, Tualatin, OR
April 11, 2015, Canter Green Farm, Clatskanie, OR
March 28, 2015, American Competitive Trail Horse Association, Clackamas, OR
February 28, 2015, Meals on Wheels Benefit "Boot Scootin' Barn Dance & BBQ", Tualatin, OR
February 13-14, 2015, Spirit of the West Cowboy Gathering, Ellensburg, WA
January 28-31, 2015, National Cowboy Poetry Gathering, Open mic, Elko NV
December 18, 2014, Tigard Rotary Club, Tigard, OR
November 29, 2014 8th Annual Columbia Gorge Cowboy Gathering, The Dalles, OR
November 15, 2014 WMA Awards Show Historic Kimo Theatre, Albuquerque, NM
November 14, 2014 Western Music Association National Convention, Albuquerque, NM
September 20, 2014, American Competitive Trail Horse Association, Yamhill, OR
September 6-7, 2014, 34th annual Hells Canyon Mule Days, Enterprise, OR
August 27, 2014, Rotary Club, Vancouver, WA
August 20, 2014, Tualatin Rotary Club, Tualatin, OR
August 2, 2014, Royal Rosarian Annual Picnic, Sherwood, OR
July 5, 2014, St. Paul Rodeo, St. Paul, OR
June 23-28, 2014, Pendleton Round-Up Wagon Train Ride
May 31, 2014, Cowboy Campfire Cookout and Concert, Helvatia, OR
May 24, 2014, Mayor of Schoonover Memorial Day Campfire, Crescent, OR
May 10, 2014, '49ers Days Celebration, Winthrup, WA
April 29, 2014, Tigard Breakfast Rotary, Tigard, OR
April 26, 2014, Special event in recognition of National Cowboy Poetry Week, Beaverton Historical Society, Beaverton, OR
April 26, 2014, Boot-Scootin' Barn Dance BBQ Benefit, Tualatin, OR
April 23, 2014, World Book Night US/Birthday Party for Shakespeare, St. Paul OR
April 22, 2014, Tualatin Public Library, Tualatin, OR
April 2, 2014, Tualatin Country Club, Tualatin, OR
March 13, 2014, Wilsonville Rotary Club, Wilsonville, OR
March 11, 2014, Back Country Horsemen of Oregon, Beavercreek, OR
March 5, 2014, Oswego Heritage House, Lake Oswego, OR
March 3, 2014, Buster's Texas-Style Barbecue, Tigard, OR with singer Coyote Joe Sartin
February 19, 2014, Lake Oswego Lions Club, Lake Oswego, OR
February 14, 2014, Spirit of the West Cowboy Gathering, Ellensburg, WA
January 18, 2014, Oregon Equestrian Trails, Molalla, OR
January 14, 2014, Sherwood Old Town Rotary, Sherwood, OR
January 13, 2014, Lake Oswego Rotary Club, Lake Oswego, OR
November 30, 2013, 7th Annual Columbia Gorge Cowboy Gathering,The Dallas, OR
November 21, 2013, East Portland Rotary, Portland, OR
November 20, 2013 House Party Portland, OR
November 7, 2013, Hillsboro Rotary Club, Hillsboro, OR
October 30, 2013, Portland Kiwanis Club, Portland, OR
October 7, 2013 O'Connor's Vault, Portland, OR
October 5, 2013 Western Music Association Columbia Chapter, Stevenson, WA
September, 18, 2013 Battle Ground Washington Rotary Club, Galeotti's Wine Celler
September 6-8, 2013 Hells Canyon Mule Days, Max Walker Memorial Cowboy Gathering. Enterprise, OR
September 3, 2013 Vancouver Washington Metro Sunset Rotary Club, Grant House at Officers Row
August 24, 2013 Graham Horse Corral, Sisters, OR
July 3-4, 2013, St. Paul Rodeo 5-7 pm appearing with Andy Bales
June 24 & 26, 2013, Pendleton Round-Up Wagon Train, appearing with Andy Bales
June 19, 2013, Butte Creek Scout Ranch West Horse Trek, Timothy Lake, OR
May 27, 2013, Memorial Day Community Campfire, Crescent, OR
March 10, 2013, Canter Green Farms, Clatskanie, OR – private event